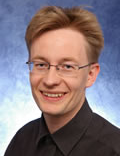 Welcome to my homepage! Here, you can find information about my scientific work.
Currently, I am working at the German Aerospace Center (DLR) in Stuttgart.
At the moment, I am working as researcher (Postdoc) modelling renewable energies.
Previously, I worked with Prof. Dr. Eckart Voland in Giessen on evolutionary psychology
and sociobiology and Prof. Dr. Dr. Gerhard Vollmer on evolutionary epistemology.
In addition, you will find more about my activities on the web,
for example my blog on scilogs.de as well as systematic creativity.
Some texts are only available in German. Please contact me for
an English version – I will be happy to provide it.